1000W Pure Sine Wave Power Inverter with built-in charger and auto transfer switch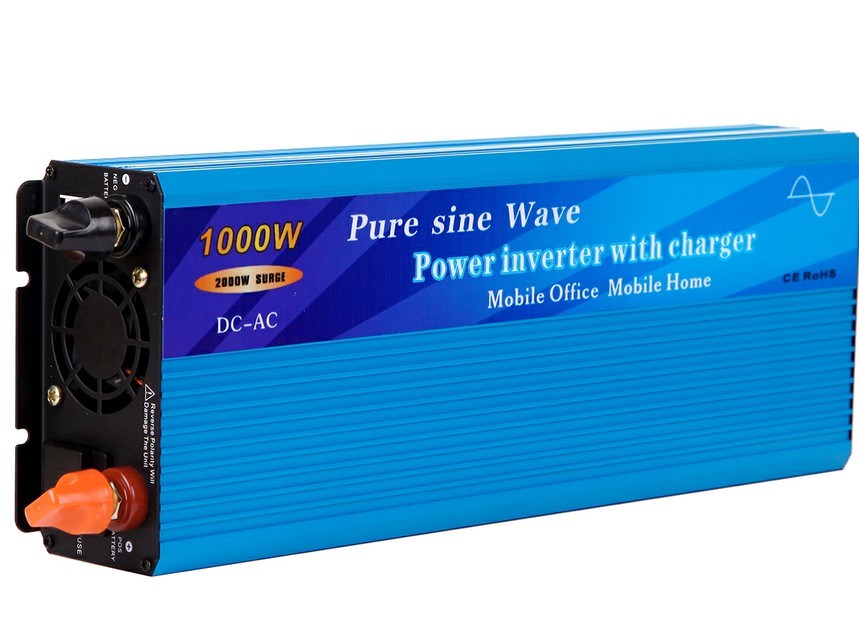 Inverter with Charger can provide your equipment with utility-supplied AC power when it is available, and during blackouts and brownouts, the unit will automatically switches over to an external battery source to power connected equipment with voltage and frequency-controlled AC power. Inverter with Charger will be a very good back-up power for the Grid, which can automatically transfer the power to battery when the Grid was off or cut.
Product Features
Built-in Charger, Built-in Auto Transfer Switch
External Fuses, Remote Control, USB interface (5V/0.5A).
Protection:Overload, Short Circuit, Reverse Polarity,Over/Under Input Voltage, Over Temperature
CE and RoHS Approved.
Specifications
Model : TYPC-1000

TYPC-1000-12V

TYPC-1000-24V

TYPC-1000-48V

AC Output
Continuous power:
1000W
Surge power:
2000W
120%<Load<150% Rated power for 10s
150%<Load<200% Rated power for 2s
Output Waveform
Pure Sine Wave (THD < 3%)
Output Frequency
50Hz±0.1% or 60Hz±0.1% (Optional)
AC Output Voltage
100~120VAC / 200~240VAC (Optional)
DC Iutput
DC Input Voltage
12V DC
24V DC
48V DC
Voltage Range
10V-15V
20V-30V
40V-60V
Low Voltage Alarm
10.5V± 0.5V
21V±1V
42V±2V
Low Voltage Shut down
10V±0.5V
20V±1V
40V±2V
Over Voltage Shut down
15V±0.5V
30V±1V
60V±2V
Charger Spec.
AC Input voltage
AC 100V-120V±10%
AC 220V-240V±10%
DC Charging Voltage
12V
24V
48V
DC Charging Current
10A
5A
3A
Three-stage Charging
Bulk/Absorption/Float charge
Automatically Switching Time
≤40ms
Converting Max. Efficiency
90% (Full Loading) / 95% (1/3 Loading)
No Load Consumption
< 0.5A
< 0.25A
< 0.13A
Protection
Over Thermal:
Shut Off Output Automatically, Temperature >75℃
Short circuit protection:
Reverse Polarity (External Fuse)
Cooling Fan automatically run
Temperature ≥45℃
Environment
Working temperature
-10℃~+50℃
Working humidity
20%~90% RH Non-Condensing
Storage Temperature Range
-30℃~+70℃
LED Indicator Light
Inverter, Fault
Packing
Inner Box Dimensions (mm)
515*195*137 mm
4pcs /Carton
Inner Box Weight (kg)
5.5 kg
Carton Dimensions (mm)
540*420*300 mm
Carton Weight (kg)
23 kg