2500W Modified Sine Wave Power Inverter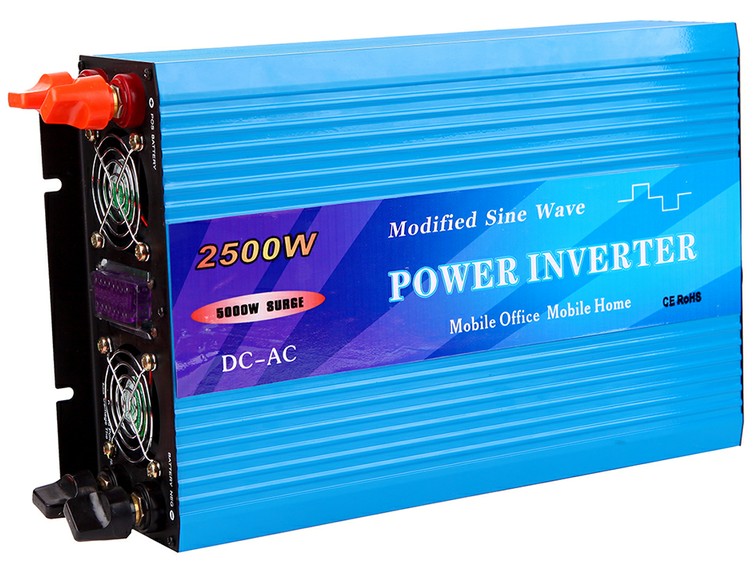 Power inverter is an electronic device that converters low voltage DC(Direct Current) electricity from a battery or other power source to 100V-120V or 220V-240V AC(Alternating Current) household power. DC is the power that is produced by battery or other power source while AC is the standard power needed to run electrical equipment. A power inverter does the opposite of a rectifier and is used in places and situations where AC power is not available.
Product Features
External Fuses, Remote Control, USB interface (5V/0.5A).
Protection:Overload, Short Circuit, Reverse Polarity,Over/Under Input Voltage, Over Temperature
CE and RoHS Approved.
Specifications
Model : TY-2500-M

TY-2500-M-12V

TY-2500-M-24V

TY-2500-M-48V

AC Output
Continuous power:
2500W
Surge power:
5000W
Output Waveform
Modified Sine Wave (THD < 3%)
Output Frequency
50Hz±0.1% or 60Hz±0.1% (Optional)
AC Output Voltage
100~120VAC / 200~240VAC (Optional)
DC Iutput
DC Input Voltage
12V DC
24V DC
48V DC
Voltage Range
10V-15V
20V-30V
40V-60V
Low Voltage Alarm
10.5V± 0.5V
21V±1V
42V±2V
Low Voltage Shut down
10V±0.5V
20V±1V
40V±2V
Over Voltage Shut down
15V±0.5V
30V±1V
60V±2V
Converting Max. Efficiency
>88%
No Load Consumption
< 0.7A
< 0.35A
< 0.18A
Protection
Over Thermal:
Shut Off Output Automatically, Temperature >75℃
Short circuit protection:
Reverse Polarity (External Fuse)
Cooling Fan automatically run
Temperature ≥45℃
Environment
Working temperature
-10℃~+50℃
Working humidity
20%~90% RH Non-Condensing
Storage Temperature Range
-30℃~+70℃
LED Indicator Light
Inverter, Fault
Packing
Inner Box Dimensions (mm)
430*286*168 mm
2pcs /Carton
Inner Box Weight (kg)
8 kg
Carton Dimensions (mm)
450*305*355 mm
Carton Weight (kg)
17 kg