500W Grid Tie Power Inverter For Solar Panel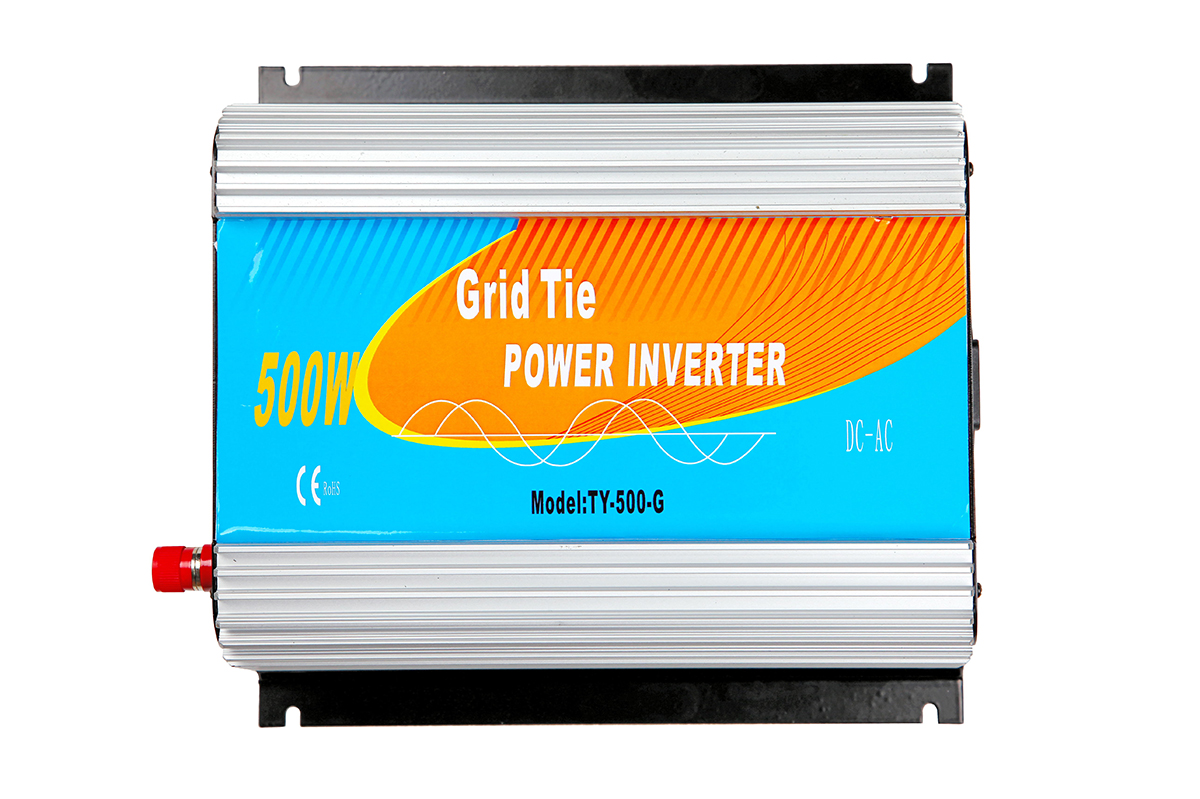 The small type solar grid tie power inverter can obtain the solar energy from solar panel, and can tie to the grid through its output cable with no extra equipment. The installation is very convenient and reliable.When the sun shines, the PV panel will produces DC voltage, and the grid tie inverter will change the DC voltage to AC voltage and puts out power to the home grid.
We call the system combining with small solar grid tie power inverter and solar panels as 'SGPV'. The system includes solar panels and small type grid tie power inverter. Solar panels can be mono silicon, polygon silicon, non-crystal film or any other material that can transform solar energy to electric energy. The power of grid tie inverter should be matched to the power of solar panels connected. So the power of SGPV is defined by its solar panels, it can be standardization according to the actual using.
The inverter can be connected to any outlet at home, when this line run by the conventional electric network. The small grid tie monitors the volume, frequency and phase of the home grid, then produce a pure sine wave that the frequency and phase are as same as the grid's, and the volume is a bit higher than the grid's, then according to the current controlled PWM, to control the output power to the grid. The small grid tie inverter just puts out power when the home grid is on.
Specifications
Model

TY-500-G

Normal AC Output Power
450W
Maximum AC Output Power
500W
AC Output Voltage Range
190V ~ 260V /Switch is at 230V Position
90V ~ 130V /Switch is at 115V Position
AC Output Frequency Range
46Hz ~ 65Hz
Total Harmonic Distortion (THD)
< 5%
Power Factor
0.99
DC Input Voltage Range ( Optional )
10.8V ~ 30V / 22V~60V
Peak Inverter Efficiency
92%
Standby Power consumption
<0.5W
Output Current Waveform
Pure Sine-wave
MPPT Function
Yes
Over Current Protection
Yes
Over Temperature Protection
Yes
Reverse Polarity Protection
Yes
Anti-Island Protection
Yes
Stackable
Yes
Operating Temperature Range
-10 0C ~ 45 0C
Inner Box Dimension
335 * 270 * 140 mm
Inner Box Gross weight
3.6 kg
Package
4 pcs / Carton
Carton Dimension
550 * 345 * 300 mm
Carton Gross weight
15.5 kg